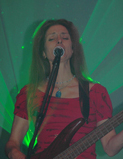 Rockin Kirtan Concert with WAH!
SATURDAY, JANUARY 26th, 7:30 PM at Tahoe Yoga & Wellness Center.
Blissful and meditative, Wah! creates devotional music out of classic yogic chants laced with Western folk and pop elements. Come sing and celebrate with Wah! in an evening of Sanskrit chant and songs in English. Bring your jubilant Self.
$20 in Advance, $25 at the Door.
530-550-8333
It is with great pleasure that we announce the rescission of our decision to close the doors of the Lake Tahoe Music Festival.  With an out-pouring of community support for continuing classical and education programs, the Board has elected to focus on re-instating the Orchestra Academy for next summer and continuation of the Truckee Tahoe Youth Music Program in the elementary school.  As a few existing Board members retire, new and enthusiastic members will be added, and we are already pleased to welcome Kay Williams and Debra Darby Dudley.
To stimulate our renewed organization, we have accepted an invitation from Lake Tahoe SummerFest to collaborate with their organization, which will assist us in raising funds for our ongoing Music Education Programs.  Lake Tahoe SummerFest has offered to donate 10% of all ticket sales that are purchased using the code MUSIC to benefit our ongoing educational efforts.
This SummerFest Classical Music event series, beginning July 31, will feature musicians of world-class distinction, and we wanted to let you – our patrons – know that this new event group is working with us to continue our efforts to bring Music, Art and Educational opportunities to our communities.  Below is a link to the 2012 schedule of SummerFest events and we encourage all of you who have enjoyed our music programs to support their efforts, buy tickets or volunteer to assist at some events.
Just click this link -  www.TahoeSummerFest.org – and when you purchase tickets, type in the offer code MUSIC – your purchase will benefit all the Lake Tahoe Music Festival Educational Programs!
We hope you will support this worthy event and our joint efforts to bring beautiful music and art to Lake Tahoe and continue with our Music Educational Efforts.
Best wishes,
Board of Directors, Lake Tahoe Music Festival
Enjoy a slice of the 4th of July with Carmen Carr!

Join GuruGanesha & His ALL-STAR Band for a magical evening of joyful chanting, mystical world music, and hilarious stories from the spiritual path.
DON'T MISS THE BLISS.
Join us at Tahoe Yoga & Wellness Center on Wednesday, March 21, 2012 at 7:30pm.
Tickets are $20 in advance/$25 at the door and can be purchased online.